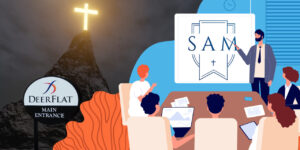 Sign up Now!
Pastoring a church in 2022 can be a difficult challenge. That's why the leadership at Deer Flat Church created the School of Applied Ministry (SAM). SAM teaches pastors in a practical and empowering environment to become better servant church leaders.  For more information, please visit: https://www.deerflat.org/sam/ And follow on Facebook. Learn more by listening to this podcast here. Forward this message and tell a friend.
Who should attend SAM?
SAM is targeting pastors who may need some coaching or encouragement.  Our focus will be on helping them get equipped, informed – exposing them to many "how to" things. We are aware of the desperate need for good and effective help in local churches. Many church leaders are struggling as they look for high-impact and low-maintenance pastors and shepherds. We understand that need and are willing to help raise up capable leaders.