Mission
To mobilize leaders to fulfill their call through formalized church-based immersive experiences that equips, encourages, and emboldens leaders to serve in the next step of their journey.
Description
River Conference Pastoral Residency is a 1-year training and empowering program aimed at leaders seeking broad based experiences to fulfill their ministry calling. The training occurs at TRC local churches and affiliates, overseen by TRC pastors and leaders. Potential candidates include, but is not limited to, those called to pastoral ministry or church planting. The expectation is that residency graduates would serve at their host church, another TRC church, or begin a new work.
The Core Content of the Residency
TRC's Pastoral Residency is based on the medical training model. In medical training models there is a mix of hands-on training, didactic teaching, mentoring, and ongoing evaluations. The content and experiences can vary greatly depending upon the calling and the intended practice of the participant. Although there is flexibility in the scheduling, there are some core content that is foundational.
Pastoral Formation and Professionalism
Evangelism
Discipleship Strategies and Practice
Church and Organizational Administration
Leadership and Team Building
Biblical Preaching and Teaching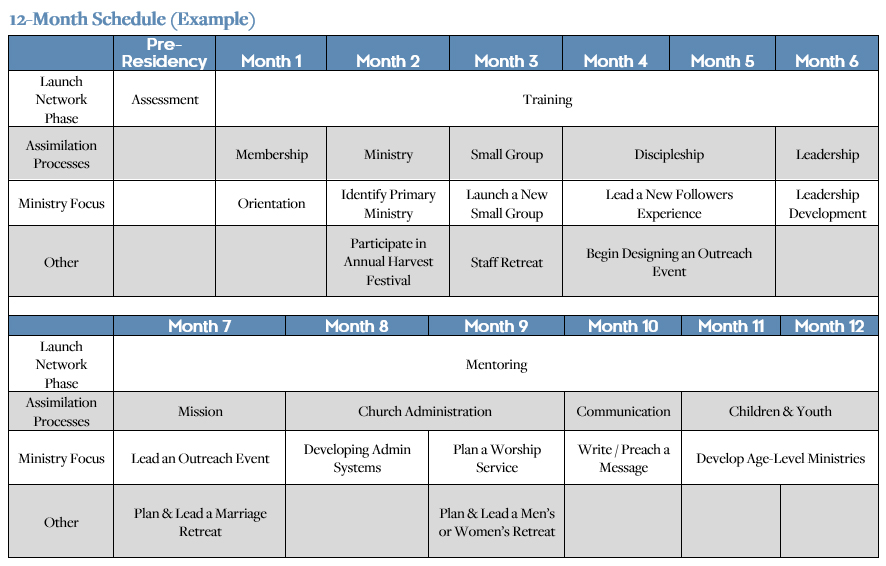 Cooperative Agreement
River Conference churches interested in hosting a resident will complete an application. In that application, the criteria for hosting a resident is detailed. There will be a maximum of three (3) TRC Residents for the January 2023 – December 2023 session. A budget of expected costs for the church to implement the residency program will be developed by the host church. TRC will match the support to the host church up to $10,000 per Resident Year. Budget expenses include stipend for the resident, housing costs, development of teaching materials, etc.
Recruitment
Applications will be handled directly from the Host Church.
Invitations will be extended to leaders who have the potential to advance TRC's and the host church's current ministries or initiate new ones but lack the experience necessary to step into those roles.
Applications are available to all TRC churches and will be on the River Institute's web site (in progress).
Decisions regarding who is chosen in the case of multiple applications is at the discretion of host church Residency Pastor.
Candidate Criteria
Must be a high school graduate and actively involved in a local church-based ministry or college-based ministry.
Must complete Resident Application and interview process via online or in-person.
Must have thriving relationship with Jesus.
Must pay travel costs to and from the program.
Must be present for 48 of the 52 weeks of the residency year.
Structure
The Resident is part of the pastoral staff team. They may have specific responsibilities (Asst to the Youth Pastor, for example) or may be seen more generally as a pastoral Resident.
Twelve (12) 4-week learning models with a specific focus will be the required curriculum. There are recommendations for the foci, but the overall mix is dictated by the needs of the Resident and the needs of the host church.
A Resident should expect to commit 30 hours per week. The schedule is determined by the Host Church and the Residency Pastor.
Housing: Local Residents can live at home; non-local Residents would stay at a host home, if available, otherwise they are responsible for locating housing
Paid Resident Structure: students would receive a stipend that is determined by the host church.
A Residency Pastor would lead the program and ministry supervision. The Residency Pastor is chosen by the host church.
Residents receive ongoing mentoring and develop ministry projects during the course of the residency.
Supervisor Structure
Host churches would be responsible for developing and tailoring the curriculum for its Resident and develop training for staff who would oversee the resident over the year.
The Residency Pastor of the host church would determine selection of other supervisors based on proven track record, capacity, availability, commitment to Free Methodism, and commitment to internship program and mission.
Residency Pastors would be required to attend annual training, with TRC providing travel expenses.
Resident Benefits
Experience incredible hands-on learning in a healthy church environment.
Gauge skills, abilities, and interests through leadership training and assessments.
Develop relationships for mentoring, recommendations, and references.
Create possible future job placements.
Host Church Benefits
Fresh ideas and insight from interns.
Potential recruits for future ministry positions.
Fulfill our calling to Mobilize and develop leaders and pastors.
River Conference Benefits
Denominational philosophy and values shared with a new generation of leaders.
Leadership development of lead and staff pastors, church planters, and missionaries.
TRC's Pastoral Residency Application
Application for 2023's Pastoral Residency